Find out why the Decommissioning & Abandonment Summit is the must-attend meeting to get you through the downturn
Get a breakdown of the 700+ executive attendees at the D&A Summit - to understand who you will meet, network and do business with
Complete overview of the 3 cutting-edge workshops, gala dinner and 3 track conference program - giving you a complete picture of the decommissioning market in 2016 and beyond!
Learn how operators and contractors are doing business with the low oil price to develop secure short-term and mid-term strategies.
Why download the brochure? Well… you will also receive:

Exclusive discount for the 8th Annual Decommissioning & Abandonment Summit
Email updates of every new speaker and exhibitor so you get real time reporting on this world leading decom summit
Market intelligence hot off the press straight from DecomWorld to ensure you are up-to-date with all market activity
Insight into how you can be part of the 1st Annual Decommissioning & Abandonment Industry Awards

If you have any specific questions regarding the 2016 Summit, please feel free to get in touch.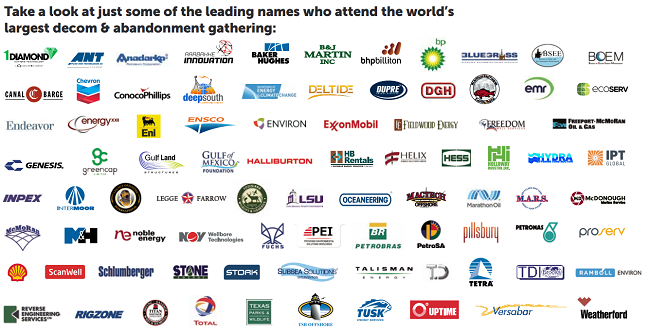 DecomWorld is a trading name of FC Business Intelligence Ltd.
Registered in England and Wales no.4388971. Registered address 7-9 Fashion Street, London, E1 6PX, UK | Terms and conditions
Get your copy of the world-leading Decommissioning & Abandonment Summit brochure now!
Optimize your decommissioning strategy during the downturn with industry's largest and most influential business conference & exhibition. Simply complete your details on the right in order to receive the full D&A Summit conference agenda and proceedings.

By downloading the brochure you will:

Get details of all the leading operator speakers in order to increase collaboration in the sub $50 oil climate- hear from Anadarko, BSEE, Marathon Oil, BHP Billiton, BG Group, Black Elk Energy, Chevron and Shell
Take an in-depth look at all 20+ crucial decommissioning debates in the low oil price environment- covering subsea well P&A, cost estimation, pipeline decommissioning, rigs to reefs and much more!