The World's Largest Decommissioning and Abandonment Summit
DecomWorld is a trading name of FC Business Intelligence Ltd.
Registered in England and Wales no.4388971. Registered address 7-9 Fashion Street, London, E1 6PX, UK | Terms and conditions | Privacy Policy

Celebrating its 11th year of bringing together the most influential names in the industry, the Decommissioning & Abandonment Summit 2019 (26-27 March, Houston) will share over a decade's worth of decommissioning and abandonment data, case study insight and lessons learned in an unrivalled learning experience.
As the world's largest and most established decommissioning and abandonment summit, no other meeting point can bring you the quality of information and networking as the Decommissioning & Abandonment Summit.
Complete the form on the right to pre-order a copy of the brochure >>
Just a handful of the 170+ operator attendees from 2018: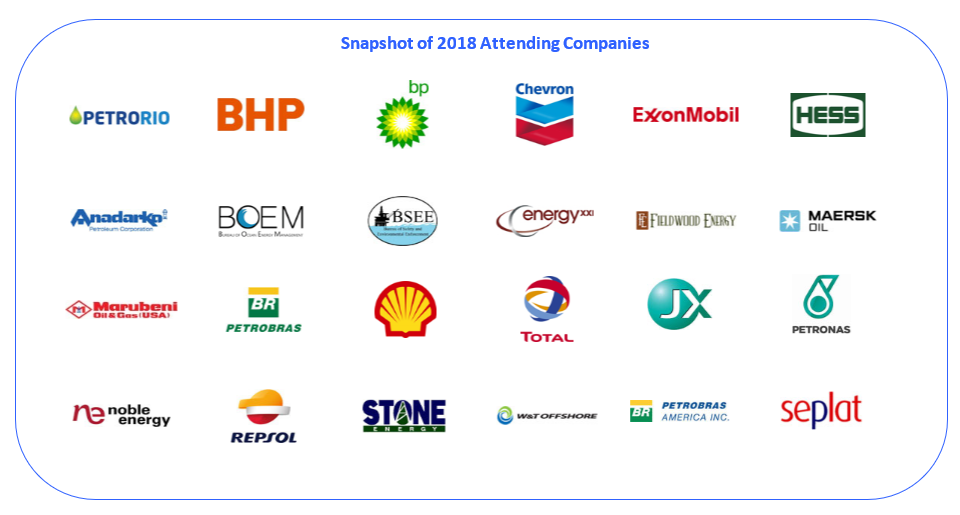 Just some of what you can expect from the Decommissioning & Abandonment Summit 2019:
Largest operator attendance for any North American decommissioning and abandonment conference, with 170+ operators in attendance in 2018: Meet senior decision makers and thought leaders from BP, Chevron, Shell, ExxonMobil, ConocoPhillips, Petrobras, Petronas, BHP, Hess Corporation, Equinor, Repsol, Eni, and more


Global Operator Case Studies: with the 2018 summit seeing key operational experience shared by operators from Thailand, Brazil, North Sea, Australia, India, the GOM and more, hear how lessons learned can be shared to improve project execution across the globe


Next generation technology showcase: the 2019 conference will host a brand-new technology showcase, with snapshot presentations to display the latest innovations creating a step-change in optimizing P&A economic efficiency, including multi-annular logging, next generation barriers, lasers and rigless P&A
Be the first to see the new agenda and speaker line up – pre-order your copy of the conference brochure by completing your details on the right >>>
Please let me know if you have any feedback, or if you want to get involved with the event.
Thanks,
Kathryn